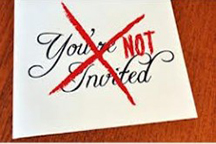 So what's the big deal about being a full-time daddy?  Dads are an unremarkable part of the human baby-making dance that has been repeated successfully literally billions of times, right?
Yes, but there is still the small matter of sex roles.  And before you brush me off with platitudes about how modern society has changed, let me put it in context with simple analogies.
Men and women see each other naked or nearly so with reasonable regularity, right?  Think sex, of course.  (Reference the baby-making dance discussed above…)  But also think beach, swimming pool, gym, etc.
Now imagine daddy wearing a Speedo to work.  Or sauntering into a women's bathroom and whipping out Mr. Winkie to pee while trying to strike up a friendly conversation with a couple of women at the counter throwing away their tampons and fixing their makeup.  Then ask to borrow a maxi pad.
Is anyone really hurt or inconvenienced?  No.  Did you abruptly and uncomfortably change the social dynamic?  You betcha.
There are places and times that we are accustomed to behaving in certain ways.  We talk and act and perhaps even think differently on a night out with same-sex friends than we do on a date.  Both are social, but one is usually more guarded and reserved than the other.  Every social environment – from restrooms to boardrooms – is governed by a complex set of behavioral norms and expectations.
And the prevailing social expectation that still rules our society – indeed nearly every society on the planet – is the primacy of women in the full-time tasks of child-rearing.  It is still very much a mommy's world.
Here's a stat that makes the point.  According to the U.S. Census, only 214,000 of the 70,100,000 U.S. fathers are stay-at-home dads.  That's just one out of every 328 of the nation's fathers.  These stay-at-home dads are defined by the Census Bureau as dads who are married with children younger than fifteen and stay out of the labor force for at least one year primarily to care for the kids while their wife works outside the home.  There are, of course, many ways to slice and dice the numbers, but the point is that stay-at-home dads are very much the exception to the norm.
Disrupting social norms, even arbitrary ones, is challenging for pretty much everyone involved.  If you are an intentionally courageous black man sitting down at a 1950s whites-only lunch counter in Alabama, perhaps you expect this.  If you are the first woman Supreme Court Justice, perhaps you expect this.  If you are just a parent raising your child as attentively and socially as you can, it can come as a surprise.  But it shouldn't.  Sex roles and norms are complicated and deeply ingrained.
So what are the rules for a full-time daddy in a mommy's world?  There are none.  Just by being there, you are defying the expectations, Daddy-O.  By all means break the mold.  Just tread with patience, courtesy, and a healthy indifference to social discomfort.
And try not to use the women's restroom.